Football camps are a trend that has been all the rage in recent years and are projects of clubs, players, coaches and former stars of this sport, where children can train in what they like the most: playing football.
Through sport, participants are taught the values represented by the institution, football team or football star, such as respect, fair play, companionship, solidarity, fun, healthy competition, etc., on and off the pitch, in order to form good men and women in all areas of life, including sport.
The football camps teach children and young people all the training methods, which are taught by professionals in this sport, previously chosen depending on their track record, achievements and experience in the position.
Any boy or girl from 6 to 18 years old can attend a football camp, depending on the programme that each one of them has. Regardless of their qualities and technical skills, students are accepted and grouped according to their age and performance on the field.
In this way, more personalised classes are achieved, where the groups have a reduced number of children per group, so that the teacher can get to know them in depth and know what they need, what they need to improve, what activities or techniques are more difficult for them and what they should exploit, for example.
The children have daily training on one aspect of football, depending on where they are playing on the pitch (goalkeeper, defence, midfield or attack), with individual exercises, in pairs, in groups, with the whole team, etc. All training is designed in advance by professional football coaches who work hard to provide the best and that the children get the most out of their stay at the football camp.
There are two types of camps: those that offer only daytime activities and those that provide accommodation for the participants.
Day camps
In the first group, the day camp may end after lunch or in the afternoon, but during the whole day they will be practising and training in their favourite sport and also doing extra or complementary activities. This will also help them to meet friends with the same tastes and interests, especially those of the same age.
When the training is over, the parents pick them up at the club facilities and the next day they have to go in early to train and have fun again.
Camps with accommodation
The second type of camp is the one that includes accommodation, i.e. the children stay overnight in an establishment previously agreed upon by the institution providing the training.
It is common for them to stay in university campuses, when these are empty due to the school break, where they will also use all the facilities (swimming pool, natural grass fields, gymnasium, games room, library, etc.).
There are also associations that have their own accommodation on their own premises. Both are on a full board basis and in many cases parents can choose to let them stay for the weekend or pick them up on Friday afternoon and take them back on Monday morning.
what types of football camps are there?
Summer Camps: Programmes organised during the school holidays to teach football to children and young people.
Football Academies: These are specialised schools that offer intensive football training.
Football Clinics: These are shorter events than summer camps and often focus on specific skills such as dribbling, shooting, or tactics.
High Performance Retreats: These camps are for more advanced players and are often run by professional coaches.
Youth Development Programmes: Many professional teams have youth development programmes that function as a type of continuing education "campus".
Girls' Campuses: With the growth of women's football, more and more campuses are dedicated specifically to women.
Goalkeeper Campuses: These focus on the specific skills and tactics needed by goalkeepers.
Adult Campuses: These campuses are for adults who want to improve their football skills, either recreationally or competitively.
International Campuses: Some campuses offer an international experience, often with top coaches and players from different parts of the world.
Each of these types of camps has its own characteristics, and the choice will depend on the needs and objectives of the individual or team.
what activities take place at a football camp?
A football camp is much more than a place where children and young people go to run after a ball; it is an educational and formative experience that encompasses a variety of activities designed to improve not only football skills, but also physical fitness, discipline, teamwork and sportsmanship.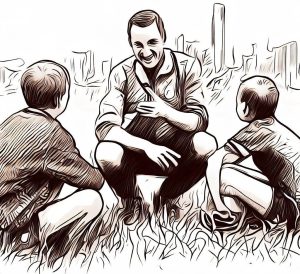 From technical and tactical drills to motivational talks, video analysis sessions and team-building activities, a football camp is a microcosm where participants can absorb the rich complexity of this global sport.
In this environment, each activity is aimed at the holistic development of the player, preparing him for both on and off the pitch. Below, we will explore in detail what typical activities take place at a football camp and how they contribute to the development of future champions of the beautiful game.